Up to $6 off Sensodyne & Physiogel at FairPrice On (Download MyHealthCoin App)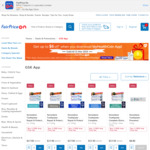 Terms and Conditions:

These Terms & Conditions apply to your access to, and participation in, 'MyHealthCoin' program which is operated by GSK Singapore and governed by Singapore Law. These Terms and Conditions do not alter in any way the terms or conditions of any other agreement you may have with GSK for products, services or otherwise.
HealthCoins cannot be exchanged for monetary value, they can only be used to get a discount worth $2 or $4 respectively based on the coin value for each promotion, subject to availability.
The promotion period to participate in this reward program is from 28th Jan 2019 to 31st Dec 2019.
GSK reserves its rights in its sole absolute discretion to reject any redemption in cases where the entries do not comply with the above-mentioned terms and conditions.
GSK shall not be liable for any loss with connection to this promotion.
This reward program is open to all residents of Singapore above the age of 18, except for the employees of GSK Consumer Healthcare Singapore Pte. Ltd. and the other GlaxoSmithKline group companies (together "GSK"), their affiliates, business partners, advertising and promotion/PR agencies, and their immediate family members.
By participating in the rewards program and providing your name, address, and other contact details, you consent to GSK and/or its authorized agent(s) to use, process, collect, store, or distribute your provided personal information solely for the purpose of carrying out this promotion.
Your participation in 'MyHealthCoin' program confirms your acceptance of these Terms and Conditions and any such changes or modifications; therefore, you should review these Terms and Conditions and applicable policies from time to time to understand the terms and conditions that apply to 'MyHealthCoin'
GSK reserves its rights at all times, without any liability to you and/or any notice to you, to vary, add/or terminate the rewards program and/or these terms & conditions, or any policy, FAQ, or guideline pertaining to the 'MyHealthCoin' rewards program and/or change or replace the coins with prizes of any value at any time in its sole discretion.
GSK takes reasonable measures to ensure a smooth user experience for the MyHealhCoin users however cannot be held accountable in case of any system errors and/or discrepancies beyond GSK's reasonable control. To participate in the 'MyHealthCoin' program, simply scan the QR code or click on the link to download the app and register using your email id.
Once registered on the 'MyHealthCoin' app, participants will receive an Email containing the verification code. This verification code is a One Time Password (OTP) to login to the app. The user is logged into the app, till he prefers to log out.