Singapore to Brisbane $507 Direct Non-Stop Return on Qantas/Emirates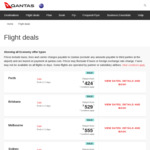 Qantas is having a sale to Australia and of note is Brisbane for $507 return. $12 more expensive than the cheapest ever flight. Fares include bags, seats and meals. Loads of dates from August 2019 to March 2020.
Find the cheapest days via Google Flights then plug them into Skyscanner. You can also book direct with Qantas for $529.
via Scott's Cheap Flights