[PC, Mac] Free Kathy Rain (U.P. $15) @ Steam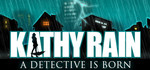 Kathy Rain is being offered for free on Steam. Normally $15. Also comes with trading cards.
Set in the 90's, Kathy Rain tells the story of a strong-willed journalism major who has to come to terms with her own troubled past as she investigates the mysterious death of her recently deceased grandfather.
Better upgrade the PC for this 🙂
OS: Windows XP
Processor: 300 MHz Processor
Memory: 128 MB RAM
Graphics: 320 x 240 32 bit
DirectX: Version 9.0
Storage: 1 GB available space
Additional Notes: Video: DirectX & Directdraw Supported
via Kozhutki on OzBargain