[PC] Free to Play (U.P. $49.50 USD) Star Citizen @ RSI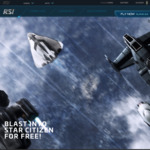 This massive crowdfunded multiplayer sci-fi, simulation, combat, trading and roleplay game recently hit v3.5 and to celebrate RSI are offering a free week for people to try out the game as well as the dogfighting Arena Commander and multiplayer first-person shooter Star Marine. U.P. $49.50 USD (~$67 SGD) to play the game.
The game itself is still in development, but the graphics are stunning with a wide variety of planets, moons, cities to explore, FPS/ship to ship combat, storyline missions and more!
During the week you have access to 4 different ships – Dragonfly Black, Arrow, Avenger Titan, Cutlass Black and Prospector.
Create an account and then apply the coupon GETINTOTHEVERSE on this page
Installer is 97MB and requires at least 47GB free space. Recommended specs can be found here.
via clear on OzBargain