[PC] Free – Kabounce (U.P. $15) @ Steam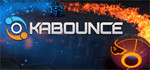 Sorry a little late on posting this. Steam is offering this for free for the next few hours.
Kabounce™ is the multiplayer pinball sport game where you are the ball. Experience fast-paced online arena combat, rack up combos and points and score to win. Take the action offline with single player time-attack parkour modes!
via Dealbot on OzBargain