[PC] Free: Crying Suns (U.P. US$24.99) @ Epic Games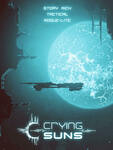 Crying Suns is being offered for free on Epic.
Crying Suns is a tactical rogue-lite that puts you in the role of a space fleet commander as you explore a mysteriously fallen empire. In this story rich experience, each successful run will uncover the truth about the Empire… and yourself as well.
via dealbot at OzBargain