[PC, Epic] Free: Unrailed! (U.P. $19) @ Epic Games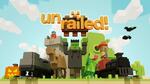 Unrailed! is free at Epic this week.
Unrailed! is a co-op multiplayer game where you have to work together with your friends to build a train track across endless procedurally generated worlds. Master random encounters with its inhabitants, upgrade your train and keep it from derailing!
via dealbot at OzBargain