New Priority Code for Civil Servants for Civil Service Club (CSC) chalets Changi I, II, Loyang booking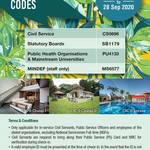 Apply Priority Code: 'PU4133' and select Organization: when registering with the Civil Service Club (CSC) Chalets. The Priority Code will entitle you to enjoy special rates when booking their chalet units.
Visit www.cscchalets.sg and click on the 'Book Now' button to register and book.