Free Shea Sample Kit from L'Occitane (Collect In-Store)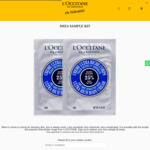 When it comes to caring for sensitive skin, less is always more. Less sensitivity, less chemicals, less complicated. It is possible with the simple but powerful Shea Butter range from L'OCCITANE. Sign up to redeem your free sample kit today.

Only applicable to customers who have yet redeem Shea Sample Kit.