Free Sample of Merries First Premium Diapers Delivered from Kao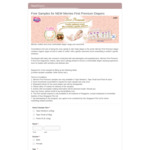 Request for a free sample by filling up the following fields.
(Limited samples available, while stocks last.)

Terms & Conditions
1. Merries First Premium samples are only available in Tape Newborn, Tape Small and Pants M sizes.
2. Each household is permitted to request for each sample size only once.
3. Repeated entries for the same diaper size will be disregarded.
4. Please allow 4-5 weeks for delivery of the samples.
5. Entries with incomplete mailing information will be deemed invalid. Should you
have any issues, please email to sg.merries@kao.com
6. This free sample request is only available to all residents of Singapore, except employees & immediate
families of Kao Singapore Pte Ltd.
7. By participating in this program, you agree to be contacted by Kao Singapore Pte Ltd for future
marketing-related activities.