Free Curel Whitening Moisture Care Series Samples Delivered from Kao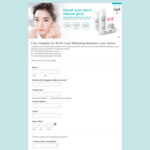 Terms & Conditions:

1) Sample Redemption is open to all residing in Singapore only.
2) Each household is permitted to request 1 set of sample only once.
3) Entries with incomplete entries or invalid addresses will be deemed invalid.
4) For enquiries, please call: 6396 0400 (Mon – Fri, 8.30am – 5.30pm)
5) Please allow 4-6 weeks for your samples to be mailed to you.
6) Data collected from the sampling survey will not be used for onward marketing activity by the brand.