Free Ascott Star Rewards (Hotel Membership) Instant Gold Status (Two Years) + 4,000 Points @ Ascott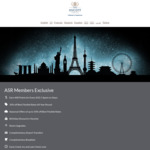 The Ascott Limited is a Singapore company that has grown to be one of the leading international lodging owner-operators. Ascott's portfolio spans more than 170 cities across over 30 countries in Asia Pacific, Central Asia, Europe, the Middle East, Africa and the USA. Ascott has more than 66,000 operating units and over 43,000 units under development, making a total of more than 110,000 units in over 700 properties.
Ascott Hotel Group has free 2 years GOLD status to sign up with Promo code AMEXGD. Normally you have to spend more than 2,179.92 USD (~$3000 SGD) to get GOLD status.
The membership benefits are listed on the their website HERE
They have a quite a few properties in Singapore and elsewhere in Asia and the world
Possible useful stuff for gold is free breakfast in Europe etc, status match with Hilton if you stay at least 1 night with Ascott.
Screenshot of my dashboard
via arctan on OzBargain