Chunky Lobsters Lobster Roll Set for $15.80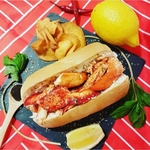 PLEASE READ THIS BEFORE PURCHASING THE VOUCHERS
1. The voucher can only be used at this timing: MON-SUN, 11:00am-08:30pm
2. At checkout, enter your email address in the "Message" field.
3. Receive your ChopeDeals dining voucher via email within 5 minutes.
4. The specific timings mentioned on the vouchers refer to your arrival day and time (not billing time).