Carbon Road Bike Frame X12 US$499.99 (50% off) + Shipping Fee $90 @Trifox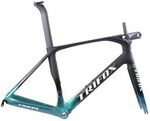 Usual price: US $689.99
Flash Sale: US $499.99
Expiration date: Nov.14
===========================================
The Trifox X12 is absolutely familiar to most cyclists, and its unique sinking aerodynamic shape ( Aerostem ) makes it competitive for the best rank in pneumatic road bikes. Since its birth, X12 has been endowed with innovation, fast speed, and fast response.
The new wiring mode of Trifox X12 is convenient for installation and maintenance.
Thanks to its excellent aerodynamics and unique design, Trifox X12 allows you to fly solo away from large groups or feel very active when riding on flat roads. It rewards your efforts with enough speed and can keep pace.
Thanks to the fact that X12 is a top AERO Road Frame, it performs extremely well on flat roads. When you accelerate away from a narrow corner or attack, it still responds quickly.