Buy 2 & Get 25% Discount on Personalized Photo Magnets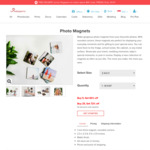 https://www.photojaanic.sg/magnets
Make gorgeous photo magnets from your favorite photos. With rounded corners, these magnets are perfect for displaying your everyday moments and for gifting to your special ones. You can stick them to the fridge, school locker, file cabinet, or any metal surface. Showcase your travel, wedding memories, baby's special moments, or year in review. Display a new collection of magnets as often as you like. The more you make, the more you save.
1 mm thick magnet, rounded corners.
2.3 x 2.3 & 3.5 x 3.5 inches.
Matte finish.
All sizes are in Inches.
Prices exclusive of shipping.
Expert Tip
Use photos which are already in square ratio or crop the photos beforehand. If your photos are in landscape or portrait format, try to choose photos where the subject(s) are right in the middle of the photo to avoid oddly cropped images. Send these as thank you gifts to your wedding guests, or send as a surprise to your clients.