30% off COSRX (Ends 14/2) 30% off Secret Key (Ends 19/2) 20% off Innisfree 15% off Others (Ends 17/2) Free Shipping @Jolse.com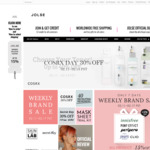 Jolse.com is a huge online store for Korean beauty products based in South Korea that offers free worldwide shipping. They currently have a few brands on sale with varying end dates. Prices are good especially with the discount, but only if you don't mind waiting for your order.
Orders above USD $30 including at least one Secret Key product will also get a free Secret Key lip tint.
COSRX – 30% off until 14 Feb
Secret key – 30% off until 19 Feb
Innisfree – 20% off until 17 Feb
PeriPera – 20% off until 17 Feb
Pony effect – 20% off until 17 Feb
CLIO – 20% off until 17 Feb
23 years old – 20% off until 17 Feb
At least 15% off other brands until 17 Feb
I personally haven't ordered from them but they are well-known – see reddit thread. Reviews for the store seem mixed – see influenster and trustpilot, and the goods can take a while to arrive.