25 Gram Saffron Pack – Premium Negin Saffron Only $169.99 + Free SHIPPING @ Saffron Store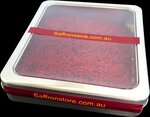 Negin All Red Premium Saffron, and Saffron Tea. Please visit our website to browse all new products. Great bundle for your kitchen's supply.
We have gone straight to farmers to provide best quality Saffron with a fraction of the price you find in the supermarkets.
Premium Saffron, Top rated & Premium eBay seller. See all the bundles below. BUY AND SAVE!
FREE SHIPPING
Please visit the website or click on the links for product details, information and awesome recipes.
HAPPY SHOPPING!
Based in cosmopolitan Melbourne, the food capital of Australia, Saffron Store is a family owned business that's passionate about international food and dedicated to bringing you historically coveted saffron spice without emptying your wallet.