15% off Mooncakes at PrimaDeli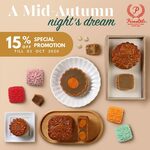 📢 SPECIAL PROMO ALERT!
Don't miss out on our decadent snowskin mooncakes and buttery-smooth traditional mooncakes this Mid-Autumn festival!
Enjoy our Special Promotion that is happening from now till 1 October! Get 15% off, when you purchase a box of either 4 regular size, or 9 mini-size mooncakes.