$120 Cash Credit for New Signups to CIMB Bank Credit Cards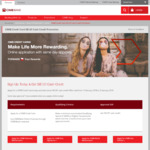 This has been around for a while but never got posted and is ending at the end of this month. Get $120 cash credit with new card signups.
Must make $400 spend within 2 months which is pretty easy. Given all (or most) of their cards have no annual fee, just keep the card.
Credit Cards