10W Fast Magnetic Wireless Mount Charger (Car/Desk) $27.50 + Delivery @ Kase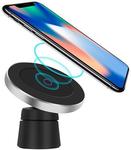 Picked up one and it works pretty well and they've got awesome customer service. You can place it in to your AC vent or it comes with a dash mount.
No code required. Qi wireless charging with Fast Charging functionality.
Uses a magnet to make your phone stick to it and its pretty strong, works through a case too.