1 for 1 Ramyeon at Bonchon via Hillion$ Rewards App (Hillion Mall)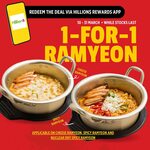 Craving for a warm and comforting bowl of ramyeon? 🍜 Why not two?

Now's the perfect time to indulge with our 1-for-1 ramyeon promo, available exclusively at Bonchon Hillion Mall! 😋

Simply redeem via the Hillion$ Rewards app and enjoy double the satisfaction.

Don't miss out on this offer, valid for a limited time only.