1 for 1 Pearly Bandung Soya Milk for $2.20 at Mr Bean [Qoo10]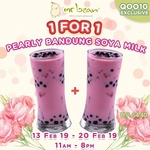 Enjoy Mr Bean's Pearly Bandung Soya Milk at 2-for-$2.20 (usual $4.40 for two) only!
Pearly Bandung Soya Milk – Bandung Milk is aunique blend of soy milk laced with rose syrup. Have a cup each with your loved one this Valentine's Day & spread the love!
Note: Redemption is valid only at 50 outlets from 11am – 8pm daily from 13 Feb – 20 Feb.
Retail Price: S$4.40
Q-Price: S$2.30
Daily deal: S$2.20
Terms & conditions
Redemption only valid from 13/02/2019 (11am)-20/02/2019 (8pm)
Can be redeemed islandwide at 50 participating Mr Bean outlets (excluding schools, polyclinics & hospitals)
Strictly NO extension of vouchers once expired
Redemption strictly via MOBILE app only. NO PRINT OUT OF VOUCHER IS ACCEPTED.
Mr Bean reserves all rights to reject any redemptions that do not adhere to the Terms & Conditions.